As of June 2018, Steam users own more than 2.9 billion games, and, no, that's not a typo. With so many games in Steam libraries all over the world and more than 18,600 unique titles in the database, there are bound to be a few (or a few thousand) duds in the bunch. If you feel a creeping sense of gamer regret sneaking up on you after your latest impulse buy, you'll be glad to hear that Steam offers a famously generous refund policy.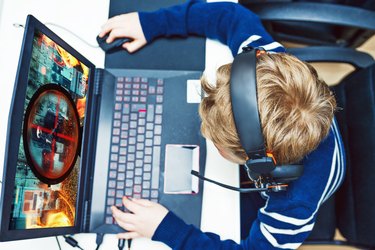 What Is Steam?
Steam, which was created by the Half-Life, Team Fortress, Dota 2 and Left 4 Dead developers at Valve, is a massive digital distribution platform for video games available on PC, Mac and Linux computers with options for mobile and TV play. Steam is free to download, and it allows users to browse and purchase from an enormous library of games that are available to buy or, in some cases, play for free. Steam also enables users to manage their game libraries, connect with other gamers, and play games online across various platforms.
What Is the Steam Refund Policy and Can I Get a Refund?
Straight from the horse's mouth, Valve lays out its Steam refund policy plainly: "You can request a refund for nearly any purchase on Steam for any reason. Maybe your PC doesn't meet the hardware requirements; maybe you bought a game by mistake; maybe you played the title for an hour and didn't like it. It doesn't matter. Valve will, upon request ... issue a refund for any reason."
If you make your refund request within 14 days of purchasing a game and have logged less than two hours of playtime on Steam, Valve's policy is to honor your refund request, no questions asked. Even if you don't meet these parameters, you can request a refund anyway, and the company considers the requests on a case-by-case basis.
Any downloadable content (DLC) that isn't labeled nonrefundable, such as DLC that permanently affects the game, falls under this policy, as do refunds on prepurchased titles. Steam Wallet refunds are covered under the same 14-day rule. Refunds on in-game purchases for Valve-developed games can be made within 48 hours of purchase.
How to Get a Refund on Steam
If you want your money back on a Steam purchase, head over to help.steampowered.com and log in with your Steam account. Go to "Purchases," click on the game in question, and select "I Would Like a Refund." The site walks you through the process of getting your money back.
You can expect a full refund within a week of the refund's approval via your Steam Wallet or through the payment method you used to make the purchase.
Can You Refund a Gifted Game on Steam? Do Gifts Expire?
In short, you can refund a gifted game on Steam. If you haven't redeemed your gift on Steam, it's refundable under the standard 14-day, two-hour rule. When you get a refund on a gift, the funds or Steam Wallet credit go back to the original purchaser. It's the thought that counts, after all.
If a friend gives you a gift on Steam, you can't let it linger forever, though. Steam gifts must be redeemed within 30 days of delivery. Once you accept a gift, it's permanently subscribed to your Steam account.
Can You Sell a Game on Steam?
As of 2018, Valve does not offer the option to sell your "used" games via Steam. However, Steam does offer the opportunity to trade games, much like the gifting feature. If you have an extra copy of a game (and only if you have an extra, unplayed copy), you can trade your game for another Steam user's game.
To initiate a trade, go to your Steam Friends list and find the friend you'd like to trade with. Click on the arrow next to your friend's name and choose "Invite to Trade" from the menu. When your friend accepts your invitation, you have the option to drag games from your inventory to a trade window. When you're good to go, click "Ready to Trade" and wait for your friend to do the same. When you're ready to finalize the deal, click "Make Trade."