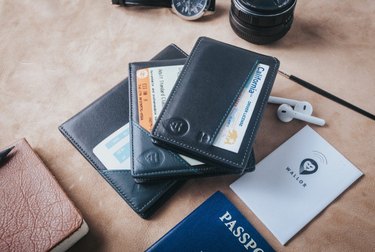 Losing your wallet sucks. A lot. A new Kickstarter aims to make it suck a little less by helping you keep track of your wallet and other valuables.
Wallor 2.0 is a smart wallet that comes with over 200 tracking tags for the important things like your phone, keys, passports, luggage, credit cards, and of course, your wallet. The tags are ultra thin and automatically charge by connecting to the Wallor wallet through the app.
AR tracking can be used within a range of 10ft of the smart wallet to see where your tagged items are. To find a tagged item that's out of range, the app will show you its last known location, timestamped with the exact moment it went out of range. Once you're back in the 10ft range, you can use AR to see exactly where it is. So, it's basically a not-as-fun adult version of the game "Hot and Cold."
If someone steals your phone, a movement sensor activates, which calculates if the wallet is moved, as well as its speed and distance—similar to the Apple Watch sensor. You can set the wallet-to-phone range (16.5 ft, 33 ft, or 164 ft) so the signal (and subsequent ringing) is only sent to your wallet if it's moved out of range.
Also, the Wallor logo on the wallet is actually a hidden button. When you press it, your phone will light up, vibrate and sound (all this can be controlled or changed in the app).
Click here to back the Kickstarter.