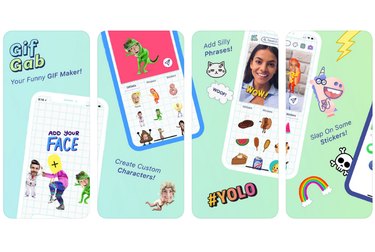 Emojis are great, but they can get kind of boring. GifGab is an app that promises to spice your texts with funny custom-made GIFs starring you (or your baby, your dog, or whoever).
You can insert your face on things like a dinosaur's body, a dancing Elvis, a cheerleading broccoli, a gnome sitting on a mushroom smoking a cigar, a twerking baby, a dancing Chihuahua, or a more festive GIF based on whatever holiday is coming up.
Here's how it works:
Use the app's selfie camera to capture your face and center it within the lines. Then choose the GIF you want to place your face on. You can add stickers, text, or a phrase to the GIF, then select how you'd like to send it (text, Facebook, Instagram, or save it to your camera roll).
You can create something like this:
Download GifGab free for iOS.