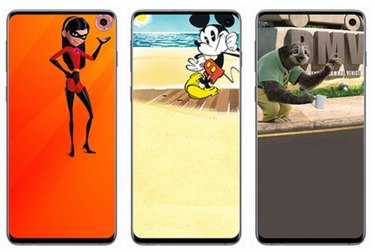 Samsung's Galaxy S10 new front-facing camera and sensor within the display created a small cutout in the corner of the screen, which many users are finding to be a bit of an eye sore.
Samsung has teamed up with Disney and Pixar to create a series of custom wallpapers that camouflage the camera in a cute and clever way. Featuring characters from Frozen, Zootopia, and The Incredibles, the wallpapers incorporate the cutout in the designs.
While most of Samsung's downloadable phone themes cost money on the Galaxy Store after their initial 14-day free period, but the company is offering the Disney wallpapers free for Galaxy S10 and S10E phones.