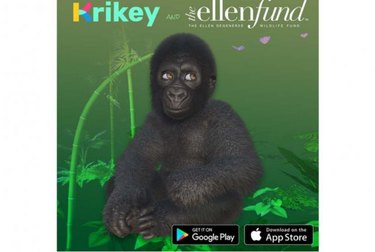 Ellen Degeneres and Portia de Rossi's life-changing visit to Rwanda inspired them to help create an augmented reality game that's raising much-needed awareness for the country's gorillas.
The Ellen Fund and AR mobile gaming app Krikey have teamed up to launch Gorillas!, an interactive game that lets users use their mobile phone cameras to virtually join a family of gorillas living in the mountains in Rwanda. The goal of the game is to keep the energy bar full, unlocking more gorilla animation as you play.
"Seeing the mountain gorillas in Rwanda was one of the most incredible experiences of our lives," Degeneres and de Rossi said in a statement. "We want everyone to be able to feel what it's like to be there, and with our game Gorillas! by The Ellen Fund you absolutely can."
When the game is complete, you can choose to share a personalized video on social media to further raise awareness, as well as donate to The Ellen Fund in support of their conservation efforts.