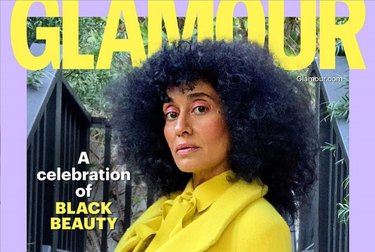 There's no doubt that the iPhone camera can take really good photos. We've all taken photos of our kids or pets that we're certain could win some sort of kid or pet photography award. Well, as it turns out, they probably could.
Tracee Ellis Ross is on the cover of Glamour Magazine's October digital issue, and her photos were taken with her iPhone 10—not even the 11.
The Black-ish star was given the opportunity to be in charge of her own photo shoot, so she went for it using her own phone.
"For my @glamouruk October 2019 digital cover story, they asked me if I wanted to take the pictures myself," Ross wrote. "Of course I said yes and asked if I could also do my own hair and makeup. They agreed ... Images taken with my @apple iPhone 10 (the 11 wasn't out yet)."
She clearly nailed the shots, which likely wasn't hard considering she's gorgeous and the iPhone 10 camera is practically professional.
If the iPhone 10 can take a killer Glamour Magazine cover shot, your kid and pet photos are definitely as good as you think they are. So, that's fun.