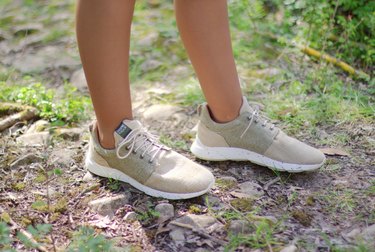 Finding cool projects on crowdfunding sites like Kickstarter and Indiegogo might be my favorite pastime. There's just something very pleasing about helping small companies launch their innovative products.
Recently fully crowdfunded on Indigogo, DopeKicks are waterproof sneakers made of cannabis hemp fibers, and they're 100 percent environmentally friendly. No, you can't smoke them, but you can wear them and feel super cool about it.
Their outsoles are made of recycled rubber, and their insoles are made of natural tree growing cork. They're also fully vegan.
The shoes are flexible and strong, and they're actually really comfortable. I was able to try a pair, and they're pretty cozy. And apparently, the more you wear them, the cozier they get. (Remember how hemp necklaces got softer over time? Yeah, like that.)
The sneakers are available for $129 in both beige and black. Click here to buy a pair.