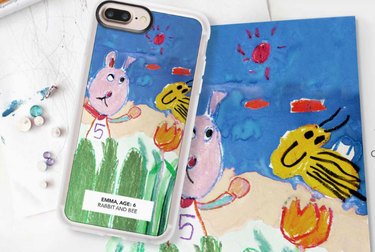 Let's face it, your kid isn't the greatest artist to ever live. But to you, their doodles are Picasso or Keith Haring level of perfection.
Casetify (the company with the coolest, most stylish and durable cases ever) has a tool on its site that lets you customize your phone case with your kid's artwork so you can show off their creativity every time you pick up your phone. You can also upload photos if you prefer to see their faces rather than their artwork.
You can customize everything from the type of case to the color to the layout of the photos.
Here are some adorable examples:
And here are two cases I made with my 2-year-old's scribbles:
Prices range from $29 to $65, depending on the phone you have and the case you choose. Click here to get started.