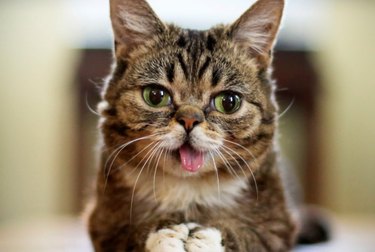 You probably remember Lil Bub. She was an adorable cat made famous on the internet back in the early 2010s when fellow animals like Grumpy Cat and Keyboard cat were also becoming viral sensations.
Lil Bub was the runt of her litter and had a form of feline dwarfism. Her genetic mutations caused her to always look like a kitten. She had a toothless mouth that allowed for her tongue to hang out at all time, which made everyone fall immediately in love with her.
Her owner Mike Bridavsky let the world know of her passing on Monday via social media. She was just eight years old.
She brought so much love to her family, and Bridavsky even credits her with meeting his wife and having their two children. According to Bridavsky, Lil Bub also "started the first national fund for special needs pets, she was the subject of groundbreaking genetic and biological research, she's helped raise over $700,000 for animals in need, and has spread a message of determination, positivity, and perseverance to people all over the world."
Lil Bub made the world better. RIP sweet girl.