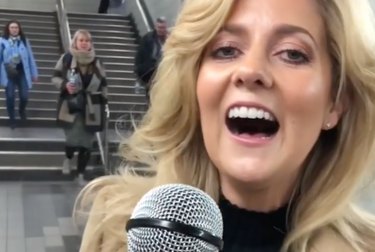 A woman was walking in the subway station in London, just minding her own business. When out of now where a man stuck a microphone in her face and asked her to sing Lady Gaga's "Shallow" from "A Star is Born." She did, and she has since gone viral.
Comedian Kevin Freshwater created a video called "Finish the Lyrics," where he asks strangers on the street to finish the lyrics to whatever song he starts to sing. A couple of people had decent voices, but commuter Charlotte Awbery's voice was mind-blowing.
Turns out, Awbery is a professional singer and doesn't even need a warm up to flawlessly belt "Shallow," giving Lady Gaga a run for her money.
Check it out (Awbery is at the very end, but the whole video is worth watching):
Check her out on Instagram to see more. After that impromptu performance, more is definitely needed.