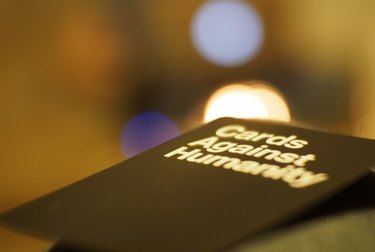 Even though we're going through this weird time of social distancing, it doesn't mean you can't still be social with your friends. If you're working from home, you might already be tired of Zoom calls—understandable. How about playing Cards Against Humanity for free with friends online instead?
Over at playingards.io, you can play everyone's "favorite party game for horrible people." The game on the website is called Remote Sensitivity, because the site isn't affiliated with Cards Against Humanity, however, the entire Cards Against Humanity game is available for under a Creative Commons license, so yay for us!
Here's how to get started
Go to playingards.io and click Start Game. You'll be given a link to send to your friends. The link takes you directly to your virtual card table. Your friends will join by clicking Enter Game.
Up to 6 participants can then play the game by dealing the cards, moving them, and discarding them. You can see everyone's cursors and if they're trying to cheat by peaking at the cards you've played.
If you want to see each other's faces while playing, just set up a Group FaceTime or a Zoom call. (You just can't get away from Zoom, can you?)
And that's it. It'll be just like you're playing together in the same room—or at least sort of like it. It'll do for now.