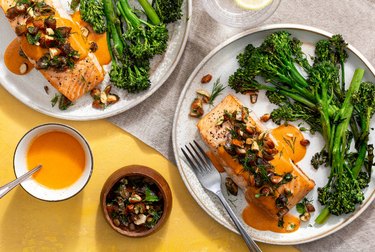 If you've been wanting to try a meal delivery service, there's no better time than the tail end of a global pandemic.
Sun Basket is a subscription service that sends healthy meal ingredients to your doorstep so you don't have to deal with meal prep, planning, and most importantly right now—the grocery store. You will, however, have to deal with cooking and cleaning up.
The company offers several breakfast, lunch, and dinner meals each week. You have the option to select a meal plan that works with your diet, whether you're up for eating anything, or meals that are Gluten-Free, Vegetarian, Paleo, Mediterranean, or Diabetes-Friendly.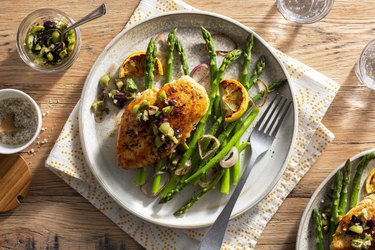 If you like to snack during the day (that's everyone, right?), you can also add on fresh organic veggies, fresh juice, crackers, nuts, dips, jerky, bars, and sweet treats.
All meals are specially curated by executive chef and co-founder, Justine Kelly, and are approved by director of nutrition, RDN, MS, Lindsey Kane. All dishes are made with organic produce, antibiotic and hormone-free meat and seafood, and curated sauces packed with fiber, protein and healthy fats to keep you healthy, not hungry.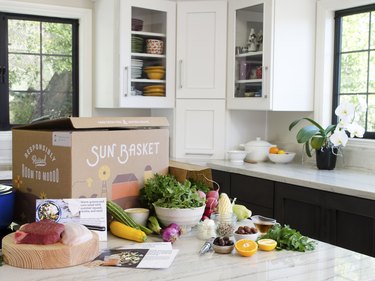 Select at least two dinners from the weekly menu. Each meal comes in two or four servings and starts at $10.99 per serving. You can mix and match foods from the full menu, and if you need some help deciding, Sun Basket will make recommendations based on your preferences.
Once you've chosen your dinner meals, you can add breakfast, lunch, snacks, and speciality meats. The menu is pretty big, so there will likely always be something that looks good.
Your order will arrive in a cold-packed box with all the ingredients secured tightly so nothing leaks, plus step-by-step cooking instructions. You can skip a week or cancel the service anytime.
In addition to serving those of us at home, Sun Basket is committed to providing meals to healthcare workers at various hospitals across the U.S. as part of their Feed it Forward program. The company is donating 5,000 meals to doctors, nurses, cleaning staff, lab technicians, etc. Customers also have the option to add a donation amount to their weekly subscription.