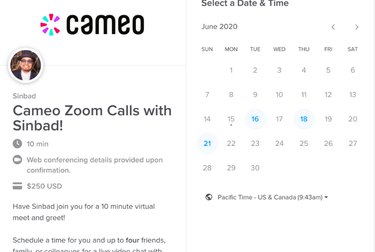 If you aren't 100% over Zoom calls at this point in quarantine, there's another one you might want to participate in. Cameo just launched a new feature that lets celebrities and fans talk to each other face-to-face.
The video call option is called Cameo Live, and instead of a prerecorded shout-out type of video, you can book a 10-minute Zoom call with your favorite celebrity—or at least your favorite out of the 32 current stars listed.
The list includes Sinbad ($250), Tony Hawk ($1,000), Sean Astin ($599), Dr. Drew ($707), Nikki Blonsky ($150), Gilbert Gottfried ($750), Vicki Gunvalson ($300), Perez Hilton ($225), and Kelci Saffer from Tiger King ($250). If you really want to shell out the big bucks, you can have a 10-minute call with Brett Favre for $5,000 or Jeremy Piven for $15,000. Or you could, like, buy a new car instead.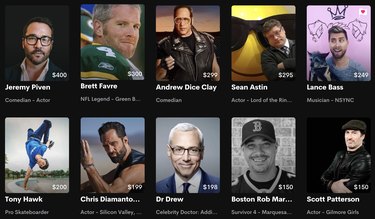 Up to four other people can join the call, bringing the price down a bit. You just might have to deal with those weird Zoom moments when everyone awkwardly talks over each other.
Take a look at the calendar for the celebrity you want to chat with, then select the date and time that works best. If the celebrity doesn't show up, you'll get a refund. You have 24 hours before the call to cancel if you get cold feet.