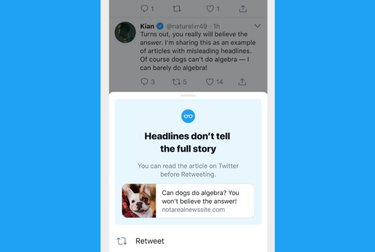 When you come across an interesting article on Twitter, it's easy to retweet it without reading it. Maybe you plan on reading it later, or maybe you don't plan on reading it at all—but either way, Twitter is now asking if you've read it.
In an effort to combat sharing misinformation and fake news, Twitter began testing a new feature back in June that asks users if they've read an article before retweeting. After seeing the question in a prompt, Twitter found that people opened articles 40 percent more, while some didn't end up retweeting the article at all.
During the test run, there were complaints that the prompt was too big and aggressive once it was initially seen. Twitter says the prompts will now be smaller.
The new feature will roll out globally "soon."