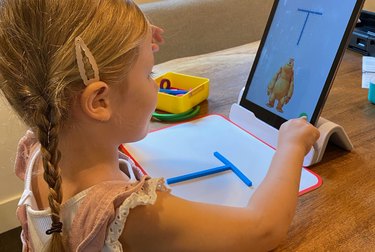 Before you go scouring the internet for the best gifts for toddlers this holiday season (or maybe you've already done that), there's a toy you have to see: Osmo's Little Genius Starter Kit.
The Little Genius Starter Kit is an interactive, educational toy that uses innovative technology to incorporate physical toys into the digital world. It transforms a iPad or Fire tablet into an early learning tool. To little kids, the game is magical, and to be perfectly honest, I'm not convinced otherwise.
The Little Genius Starter Kit is designed for kids ages 3 to 5. You need to supply the tablet, but the kit comes with a silicone play mat, a stand for the tablet, and a red reflector that reflects your child's work onto the screen. It also includes two small boxes, one with 38 silicone sticks and rings (which happen to be dishwasher safe and BPA-free) for creating letters and designs. The other box includes 19 costume pieces that fit together around a cardboard cutout of a little kid—they're for creating stories.
I was able to test the kit with my 3-year-old daughter, and she was hooked immediately. While I was there for support, once she grasped how the game works, she really didn't need me at all—aside from a few questions along the way.
She's never been terribly into tablets or apps, but she played Little Genius for an entire hour and a half by herself. (An HOUR AND A HALF!) I have never seen her so engaged with a digital toy. And instead of watching TV today while her brother napped, she requested Little Genius. So, is the game magic? Yes, yes it is.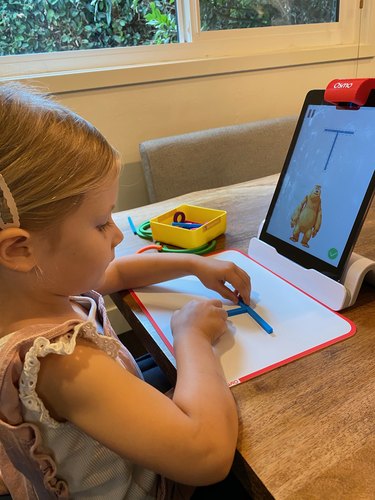 Before you get started, you have to download the free app, along with each of the included four games. You'll also have the option to download the parent app which lets you track your child's progress.
Each of the games are designed to develop cognitive, creative, social, and emotional skills. The ABC game walks kids through building letters and practicing phonics with a happy monster guy named Mo. The Stories game asks kids to dress a little kid in various clothes to navigate through stories. Squiggle Magic allows kids to use their imagination by creating designs that come to life on the screen. And finally, Costume Party lets kids experiment with different outfit options as the characters react to their choices.
I've seen a lot of educational toys for kids, and without a doubt, this one is the most engaging, educational, and all-around fun. It's available at Osmo or on Amazon for $79.