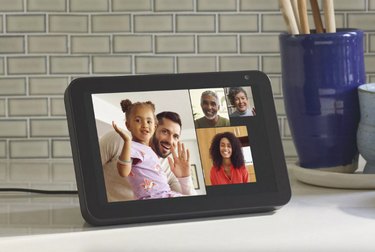 Amazon is launching a new feature that will allow up to seven people to join a video or audio call on supported devices, including the Echo, Echo Dot, and Echo Show. The launch is happening at the perfect time—just before the holidays as people continue to stay home to keep friends and family safe.
Using the Alexa app, anyone who owns one of the Echo devices will be able create and name groups, but contacts added will first have to opt in if they want to be part of a group call. Once you've created a group, you can say "Alexa, call my family" to easily connect.
If you're thinking, "Why wouldn't I just continue to Zoom or use another calling service with my friends and family?" Well, of course you should do whatever works best from you, but a benefit of group calling through Echo devices is the lack of time limits like Zoom has. So, you could essentially spend all Christmas day together if you want.