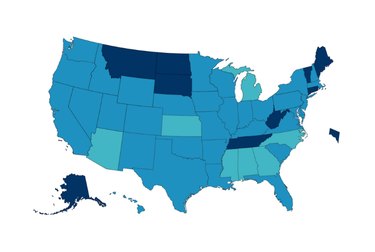 Now that COVID-19 vaccinations are well underway in the U.S., the CDC is being clear about how many people have been vaccinated in each state by actually giving us the numbers. Finally some transparency.
A new section on the COVID date website tracks the number of both Moderna and Pfizer BioNTech vaccines that have been distributed to hospitals, clinics, pharmacies, etc. It also tracks the number of people who have received the first dose of the vaccination.
The data is offered at state and national levels, with numbers reflecting vaccination totals as well as the number of vaccinations per 100,000 residents. You can also view data based on the pharmacy distribution program, which provides vaccinations for those living in longterm care facilities.
The government had a goal of vaccinating 20 million people by the end of 2020, which we didn't even come close to achieving. The site's last update was on Jan. 4, 2021 at 9:00 a.m. ET with 4,563,260 people having received the first dose. But Dr. Anthony Fauci says we'll be on track soon.
"What we hope is that they will be gaining momentum as we catch up with this," Fauci told MSNBC. "There always will be bumps in the road and hiccoughs about that. We hope that that's what this is a reflection of. And as we get into the first week or so of January, we'll catch up quickly with that 20 million dose in the arms projection that we had. And as we get into the middle of January, February, and March, we will be on the target."
To stay informed on the progress, you can refresh the CDC's website.