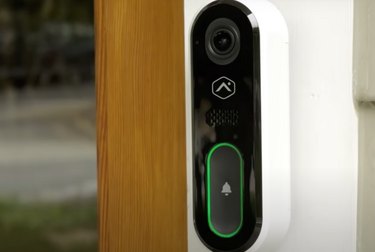 Doorbells can be a cesspool of germs, and now that we're living an a pandemic, doorbells can be straight up dangerous. A new touchless doorbell is making it safer for anyone who comes to your door—whether it's someone delivering a package or groceries, or a masked friend coming over to socially distance hang.
The COVID-era Touchless Video Doorbell is from Alarm.com, and it's the first commercially available video doorbell that can be activated without touching the device itself. It eliminates the need to physically press a doorbell button. To ring the bell, your visitor just needs to stand on the designated spot (usually a doormat) and the software quickly and accurately detects when someone is there.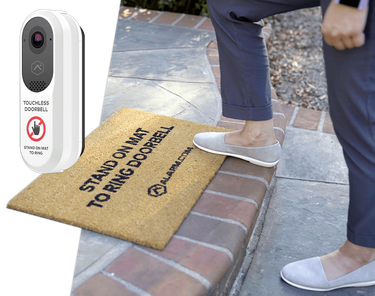 The company will sell a doormat with instructions on where to stand. Similar to Ring and Nest doorbells, this one has a built-in camera that features a wide 150-degree field of view. It has support for HDR and captures footage in Full HD. It also comes equipped with infrared night vision, two-way audio, and access to both live and recorded videos through the Alarm.com website and mobile app.
You'll be able to buy the Touchless Video Doorbell for around $200 through Alarm.com, as well as the company's partner service providers.