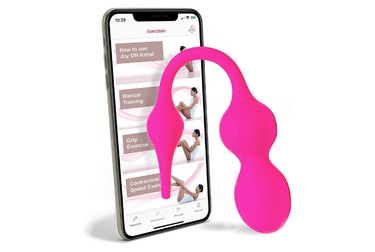 I'm not here to tell you what to do with your vagina, but OBGYNs are, and according to them, a woman should be kegeling regularly. (Not sure if that's a real word, but it sounds right enough.) In fact, kegel is named after gynecologist Arnold Kegel.
In case you didn't know, a kegel is an exercise that strengthens your pelvic floor muscles by tightening and relaxing the muscle over and over again, which benefits your uterus, bladder control, small intestine, and rectum. Strong pelvic floor muscles can help in childbirth, and kegels can also aid in postnatal healing and recovery.
If you've ever done a kegel (just one is enough to understand), you know that they're pretty terrible. That's why a smart kegel device called the Joy On Kegel Exerciser is so beneficial. The device (which doubles as a vibrator, heyyyy) is inserted into the vagina, and when you tighten and release, the Bluetooth technology and sensors work to track grip and speed. Real-time feedback is given in the connected app so you can see how awesome your vagina and pelvis really are.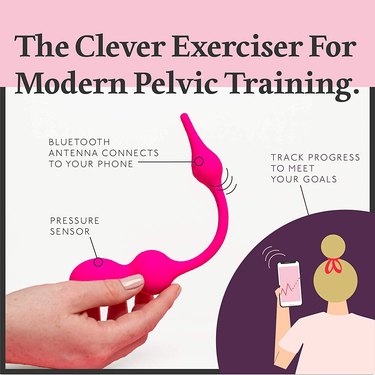 Two workouts are included in the app, each targeting a specific action (repetition and strength). There's also a manual mode if you'd rather go at it alone.
The Joy On Kegel Exerciser is the best-selling bladder control device with over 2,400 5-star ratings on Amazon. It's also the only kegel exercise device recommended by the American Physical Therapy Association, according to Health.com.
The device is available on Amazon for $70.