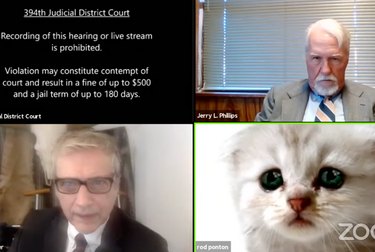 As people continue to work from home, the possibilities of what can go wrong during a Zoom meeting are practically endless. But when mishaps are recorded, sometimes they're just too good not to share with the world.
Rod Ponton is a lawyer who was participating in Zoom court, as the legal community continues to be dedicated to the cause of justice. He was getting ready to present a case in Texas' 394th District Court to a Judge. Something wasn't right though. Ponton appeared as a cat.
Somehow, Ponton's filter setting had been changed so his face was the face of an adorable little cat, and neither he nor his assistant could figure out how to remove the filter. Not an ideal situation for Zoom court.
Judge Roy Ferguson, who was on the video call, let Ponton know about the cat filter situation. Ponton assured the judge that he was, in fact, not a cat and was ready to move forward with the presentation. Of course, as he spoke, the cat's sweet eyes shifted back and forth and his mouth moved.
A warning label on the video indicates that "recording of this hearing or live stream is prohibited." A violation could result in a fine of up to $500 and 180 days in jail. But it was Judge Ferguson himself who tweeted the video, so all is well.
Here's the hilarious video: