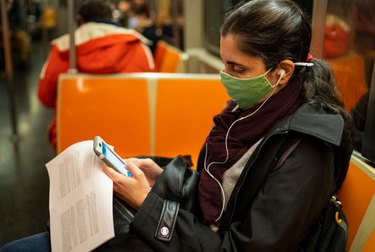 Apple's iOS 14.5 update is introducing a new feature that gives you the ability to unlock your iPhone while wearing a face mask. You'll just need an Apple Watch.
Over the past year, when you'd wear a face mask and attempt to open your iPhone, Apple's face recognition security tool, Face ID, would trigger the passcode entry screen to pop up — something you're probably well aware of. You'd either have to type in your passcode to gain access to your iPhone or you'd need to remove your mask — which clearly defeats the purpose of wearing a mask. Face ID couldn't recognize faces that were covered. It's been frustrating, but an understandable security situation that just hadn't been solved yet — until now.
In an effort to encourage safe mask wearing, an iPhone can now communicate with an Apple Watch when the phone is raised to use Face ID. The two devices have to be in close proximity for the feature to work. When authentication is complete, the iPhone will unlock and the Apple Watch will vibrate.
You'll need to opt in to use the feature, and it will only work to unlock the iPhone. For security reasons, you'll have to use the passcode to use Apple Pay or to make transactions through the App Store or iTunes. The feature is rolling out with Apple's iOS 14.5 update.