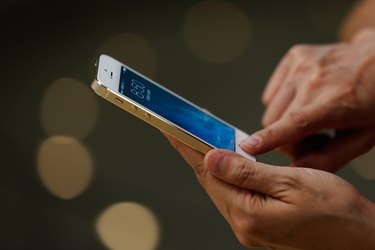 The option to disable your iPhone's SIM card PIN is on your device's SIM PIN menu screen. The SIM PIN tool is one of the iPhone's security features and prevents unauthorized access to a cellular network by locking the SIM card. However, unlike the Passcode security feature -- which prevents unauthorized access to your phone -- you are only prompted to enter the SIM card's PIN when you restart your iPhone. The Passcode feature requires a code every time you wake your iPhone, power it on or restart it.
Step 1
Select the "Settings" app on your iPhone's home screen to open the Settings menu screen.
Step 2
Scroll down the menu and select "Phone" to open the Phone menu screen.
Step 3
Scroll down the Phone menu and select "SIM PIN" to open the SIM PIN menu screen.
Step 4
Slide the "SIM PIN" switch to the left -- which is the Off position -- and then enter the PIN.
Step 5
Tap "Done" to disable the SIM PIN.
Tip
If you want to change your SIM PIN, open the SIM PIN menu screen and tap "Change PIN." Enter the current SIM PIN, tap "Done" and enter a new PIN. Tap "Done," re-enter the new PIN and then tap "Done" to save the new PIN.
Warning
Incorrectly entering the wrong PIN three times in a row disables the SIM card. If this happens, you need to get a PIN Unlock Key from your wireless carrier to reactivate your SIM card.
You cannot restore your iPhone if the SIM card is locked. Unlock the SIM card before attempting to restore the device.
Information in this article applies to an iPhone 5 running iOS 7. Instructions may vary slightly or significantly with other versions or products.