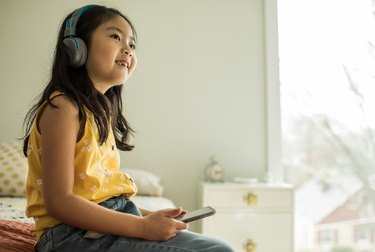 The "A Kids Book About" series of books is now a podcast, and the topics and discussions are helping kids (and their grownups) understand tough subjects.
If you and your kids haven't read them, the books explore the important, challenging, and empowering topics that kids experience every day. Written by different authors with an expertise in each subject, the books help grownups have open and honest conversations about things that matter.
Best for kids ages 5 and up, each episode of the educational podcast features a conversation with the author of some of the different "A Kids Book About" books. Topics include anxiety, change, sexual abuse, shame, mindfulness, anti-Asian hate, disabilities, feminism, COVID-19, divorce, systemic racism, and emotions.
Most parents want to have these conversations with their kids, they just aren't sure how to begin. The podcast is a great resource and guide to start, or even continue, talking about hard and sometimes even uncomfortable things. (The podcast is great even if you haven't read the books.) It's also a fun way for kids to hear the authors' voices and to listen to more of their stories.
So far there are 15 episodes, each around 15 minutes long. You can find the podcast through the brand's website or on Apple Podcasts.