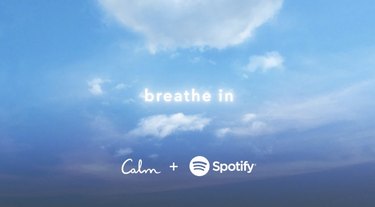 Spotify is now offering meditations from the popular Calm app with the intent to make mental health more accessible. The two apps have teamed up to give Spotify users access to free mindfulness content.
There are 11 Calm shows available for Spotify users, including Calm for Beginners, Calm for Stress & Anxiety, Daily Mindfulness, Calm for Sleep, Calm for Kids, and Camila Cabello's mindfulness show. Each show offers some free content to listen to or watch, while the rest of the content requires a Calm subscription. If you're a new user, however, you can sign up for a free trial to check out the content.
"One of the challenges of practicing mindfulness is finding time for it amid the many demands of day-to-day life," Calm wrote in a press release. "That's why we've teamed up with Spotify to make some of our best content conveniently available in the Spotify podcast catalog."
Spotify and Calm users can link their accounts so all available Calm content on Spotify is available to them.