You may have read a Rebel Girls book to your kids — they are beautiful stories that highlight extraordinary women throughout history. Rebel Girls also has a fantastic app as well as a podcast that encourage kids to ask questions and explore their own interests.
In celebration of Hispanic Heritage Month (Sept. 15 - Oct. 15), the Rebel Girls YouTube playlist features 15 stories about inspiring Latinx women like Maria Teresa Kumar, the CEO of Voto Latino who has helped register over one million Latinx voters to have their voices heard; Celia Cruz who is known as "The Queen of Salsa;" and Selena Quintanilla Perez who introduced Tejano music to the world in her brief 23 years.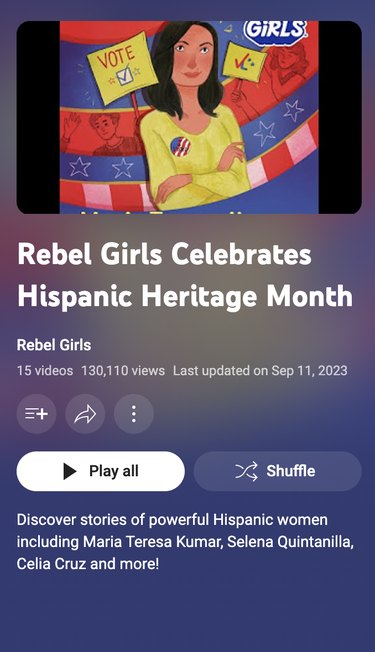 Many of the stories are read by women who are notable in their own right, including Justina Machado, Pamela Adlon, and Yuan Yuan Tan. After the stories are read, kids will get a quick 4-minute follow-up episode on each of the narrators.
Check out all 15 Rebel Girls stories in honor of Hispanic Heritage Month here.