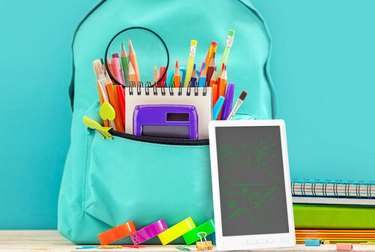 Travel days aren't exactly a walk in the park when you have kids in tow. Sure, iPads will keep them busy and entertained for a while, but then you're dealing with too much screen time. A great iPad alternative is myFirst Sketch Book, a digital drawing pad that gives kids the freedom to draw whatever they'd like, as many times as they'd like, whenever they'd like.
MyFirst Sketch Book is the eco-friendly, paperless drawing pad kids (and parents) need. It lets kids draw, write notes, doodle, and erase with the option to save their work. Except this way, you'll be able to hold onto their drawings digitally instead of adding them to the massive pile of your child's existing artwork.
Drawing on the pressure sensitive pad feels like drawing on paper with a pen, only there's no mess and you don't have to bring along millions of papers, crayons, and markers — maybe just hundreds.
You can pair the pad with the Sketch Book app so they can adjust the pen's font thickness, type of pen, tip size, and color to create a different feel of drawing. And in the middle of your travel day, you won't have to worry about the Sketch Book running out of batteries, as it lasts for two weeks on a single charge.
MyFirst Sketch Book can be purchased here for $98.50.