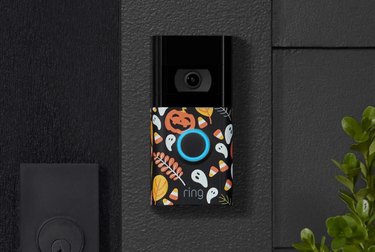 Ring is helping you get into the Halloween spirit by offering its annual spooky doorbell chimes. If you have a Ring Video Doorbell, you can change the Chime's tone to Halloween-themed sounds like a screeching cat, a creaky door, or a creepy laugh. The chimes are only available for the month of October, because you know, Halloween.
Since your doorbell will probably get more action than usual on Halloween night thanks to trick-or-treaters, the feature is an easy way to add some eerie fun.
If you're feeling extra Halloween-y and have the Ring Protect Plan, you can also take advantage of Ring's new Halloween Quick Replies, a free feature that allows your doorbell to automatically answer for you. When someone is at your door and presses the Ring doorbell, your device can respond with something spooky, like:
​"Boo! Leave us a message if you dare [evil laugh]."​
​"Just a minute! Feel free to park your broom."​
​"Please leave the package (and any hocus pocus) outside.​
​"All the candy is gone, move along now."​
​"Tell us what brings you here...or we'll put a spell on you!"​
How to enable Halloween sounds on Ring Video Doorbell
Open the Ring app.
Tap Chimes in the top toolbar. (If you don't see Chimes, tap Devices from the side menu).
Tap the device/chime you'd like to change.
Select Audio Settings.
Choose Chime Tones.
Select the sound you'd like to use.
If you really want to go all out for Halloween, Ring is also selling festive faceplates for the Ring Video Doorbell 2, 3, 3 Plus, and 4, at $14.99 each from Ring.com.