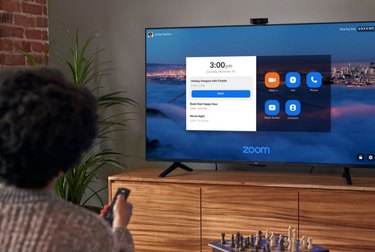 As holiday parties, Christmas gatherings, and New Year's celebrations are being canceled due to the rapid spread of COVID-19's omicron variant, Amazon has a way for families to celebrate the holiday together on the big screen... safely from their own homes.
Amazon launched its very own Fire TV last month, and the company just announced that users can now use the TV for Zoom calls. Since the 4K TVs don't have built-in cameras, you'll need a USB webcam to plug in for it to work.
In a blog post, Amazon notes that you'll need a Fire TV Omni Series of any size and a compatible webcam that's 720–1080p — the company suggests the Logitech C920, C922x, or C310. The Zoom app will use the TVs speakers and microphone and not the webcam's.
You won't have to spend time getting the Zoom app set up before a call, because locating Zoom is especially easy on the Fire TV — all you have to do is say "Alexa, find Zoom."