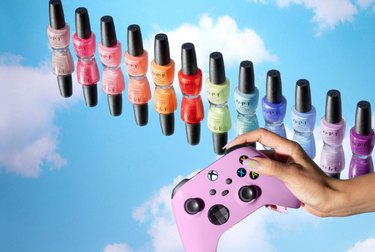 Xbox and popular nail polish brand OPI have teamed up to make sure your nails can match your Xbox if you want them to. There are 12 new Xbox-inspired nail polish colors to choose from and each comes with special in-game content for "Halo" and "Forza Horizon 5."
Each of the 12 nail polishes has a video game-inspired name, like Heart and Con-soul, You Had Me at Halo, and Quest for Quartz, according to an Xbox press release. Here's the full list:
Quest for Quartz: A shimmery rose quartz that will put you in the winner circle.
Pixel Dust: A shimmery mauve pink that will pixelate your world.
Racing for Pinks: A crème rose that will rev your engine.
Suzi is My Avatar: A creamy pink-nude that will give you virtual power.
Trading Paint: A crème apricot you'll race to the finish for.
Heart and Con-soul: A shimmery crimson red that takes nails to the next level.
The Pass is Always Greener: Meet your matcha with this creamy pastel green.
Sage Simulation: Get lost in a shimmery sage green simulation.
You Had Me at Halo: A shimmery galactic blue that will give you sparkly stats.
Can't CTRL Me: A shimmery robin's egg blue that cannot be CTRL'd.
Achievement Unlocked: Unlock a world of color that's lilac optimized.
N00berry: Berry boost your nails with this deep crème purple.
The OPI nail polishes are currently available at ULTA stores in the U.S. and will launch globally on Feb. 1 wherever OPI products are sold, including Amazon. In-game, hue-matched content will be unlocked on the same day. OPI x Xbox Nail Lacquers will retail for $10.50 each and Infinite Shine colors will retail for $13.