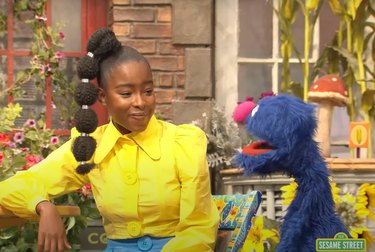 ​Sesame Street​ has launched a new series called "Word of the Day," which teaches kids about diversity, inclusivity, and standing up for what is right. Sesame Workshop, the nonprofit behind ​Sesame Street​, along with media company WarnerMedia Kids and Family created the series to "harnesses the power of language to nurture children's positive and healthy senses of self," according the announcement.
The first video features poet Amanda Gorman who teaches Grover about a new word, "upstander." In the video, Gorman tells Grover that an upstander is someone who "uses their kind words or actions to help their friends or themselves when they're being treated unfairly and unkindly." She explains that "sometimes people are treated are unfairly because of the color of their skin, the shape of their eyes, the language they speak, or because of their religion." An upstander treats all people with respect, kindness, and fairness.
Series guests will include Samuel L. Jackson, Gabrielle Union, Brett Goldstein, Anna Cathcart, Zazie Beetz, Ava DuVernay, and First Lady Jill Biden. They'll introduce important words like "belonging," "fairness," and "proud." The videos will be released simultaneously on Sesame Street's YouTube channel and across Cartoon Network and Cartoonito's social channels.
Back in 2020, Sesame Workshop created a racial justice initiative called ​Coming Together​, which helped parents talk to their kids about race, ethnicity, and culture. The "Word of the Day" series is part of the ongoing initiative.
"We know that children are not colorblind; they absorb messages about their own and others' identities from a very young age, from their own lives and the world around them," said Akimi Gibson, Sesame Workshop's Vice President & Education Publisher and one of the leaders of the ​Coming Together​ initiative. "To help children of all backgrounds build empathy and self-esteem, families need language to talk about race, ethnicity, and culture in an open and positive way. With these new videos — and as with all of our ​Coming Together​ content — we want to support caregivers as they help their children navigate our complex world."