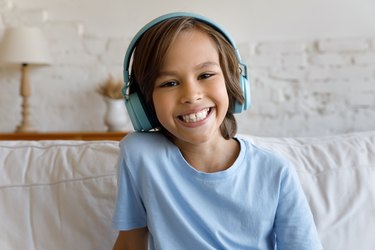 The world can be a big, scary place for kids (for grown-ups, too). Dealing with school, friendships, COVID, and everything in between can be overwhelming. For some kids, mindfulness can help them connect with their breath and thoughts, improve their mental well-being, and give them tools to cope with stress, emotions, and everyday life.
Mindfulness podcasts give kids the chance to take a break from any anxieties they feel about the state of the world or just life in general. Below you'll find four of the best mindfulness podcasts for kids that are great tools to use at bedtime, before school, before an after-school class, or other anxiety-inducing activities.
Best mindfulness podcasts for kids
1. Stop, Breathe & Think Kids
Equal parts fun activities and meditations, this app is designed to help your kids sleep, focus, and process emotions. It's the kids version of the popular podcast of the same name. The kids' version features 15 short video meditation "missions" that are between 2 and 8 minutes in length and offer virtual stickers for completion. Each contains audio that guides kids through meditations along with cute animal animations.
2. Best Day Yet: Affirmations for Kids
The Best Day Yet podcast teaches mindfulness skills to kids in a way that's fun, engaging, and positive. Short power episodes offer breathwork and empowerment tools that kids can use in their everyday lives when things get scary or challenging. Longer episodes (around 10 to 15 minutes) take kids on imaginative animal adventures, all guided by host Marjorie Stordeur, who has 20 years of experience in education and children's media.
3. Peace Out: Mindfulness Stories for Kids
Perfect for parents or caregivers who want to teach kids mindfulness, self-regulation, and social-emotional skills, the Peace Out podcast guides kids through visualization and breathing exercises focused on kindness and fun science facts. Hosted by Chanel Tsang, a family supports practitioner, and yoga guide, the podcast has a section of episodes for kids 5 and under and one for older kids ages 5 to 8. It's already in its fifth season, so there are plenty of episodes to choose from.
4. Like You: Mindfulness for Kids
Hosted by a dad of two girls, Noah Glenn, the Like You podcast uses breathing, affirmations, music, and imagination to become more empathetic, explore feelings, encourage self-esteem, and relieve anxiety. Episodes range from around 12 to 20 minutes. The audio experience was created for kids, but anyone can benefit from listening, including older siblings, parents, or grown-ups who want to get in touch with their inner-child.