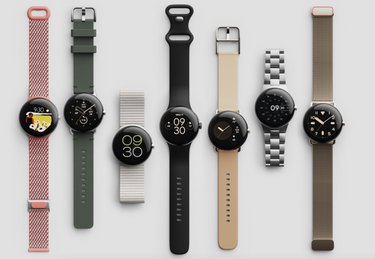 Google announced its first-ever smartwatch at today's Made by Google event. The Pixel Watch runs on Google's WearOS platform and is compatible with every Pixel and Android phone. It fully integrates with the Pixel 7, Google's brand new smartphone, and all of Google's apps.
The Pixel Watch has built-in Fitbit, so it's fully optimized to track your health and fitness. It can measure your heart rate, has ECG (electrocardiogram) tracking, and sleep monitoring. The watch also provides wellness reports, including daily workout readiness scores, sleep scores, and health metrics, which are designed to help you maintain a workout routine and sleep schedule.
As for the cost, the watch starts at $349 for the model that only has WiFi and $399 for the model that also includes LTE. To get you started, both versions come with three months of YouTube premiums and six months of Fitbit Premium. Over 20 bands are currently available in different styles and colors, and they're customizable for the activity you're doing.
Google says that at some point in 2023, the Pixel Watch will feature fall detection, which will become available via a software update. The Pixel Watch is available for pre-order now and will hit stores next week.