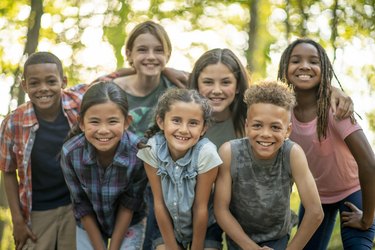 While it's always important to talk to your kids about Black history, Black culture, and racial justice and injustice, a good time to continue (or even start) the conversation is February's Black History Month.
The National Museum of African American History & Culture, the only national museum fully dedicated to the documentation of "African-American life, history, and culture," offers several series, lessons, and exhibits for parents, teachers, and kids — both in person and online.
If you can't make it to the actual museum in Washington, D.C., check out the museum's Talking About Race online portal that gives parents, educators, and anyone committed to equity the tools to begin the hard and necessary conversation about race. Topics include how to be anti-racist, how to help your child have a healthy racial identity while respecting others, historical foundations of race, understanding racial biases and system oppressions, and more.
Through the portal you can take a deep dive into each topic. Once you've read through the lessons and watched the informative videos, a reflection section asks you to think and talk about specific racial topics. The portal provides you with questions to ask when racist behavior occurs and activities for parents and kids. You'll learn right along with your child.
Check out the museum's Talking About Race portal here.