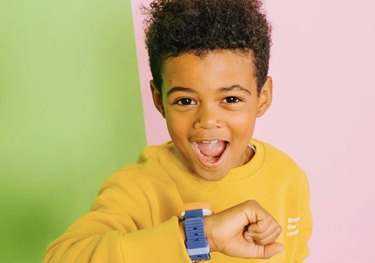 Apple Watches are great, but they're way too expensive for most people to buy for their kids. Plus, young kids don't need all the features an Apple Watch has to offer. If you want to buy your child a smart watch, check out the Xplora X6Play.
The Xplora X6Play is a smartwatch meant to be a child's first phone. Designed for kids ages 4 to 11, the watch allows parents to have an overview and control over the watch. Through the app, parents can add trusted contacts, and to ensure their safety, the only people kids can call or text are those in their contacts list.
The smartwatch is a great way for you and your child to keep in touch when they're at an after school activity, playing at a friend's house, or even when they're home with a babysitter. The watch also has GPS so you can see where your child is at all times, at least as long as they're wearing the watch.
There are several cool features that both you and your kids might enjoy, including a step counter with rewards and competitions to help encourage kids to stay active, but that can be turned off within the app if it isn't for your family. You can also set a school mode schedule, which makes the phone unusable during specific hours of the day so as not to distract from school. The watch also has a stop watch, alarm, camera, gallery, emojis, and it can connect to WiFi and Bluetooth.
The Xplora X6Play comes with a SIM card for network connectivity. There are three plans to choose from. Connect++ gives you unlimited nationwide talk, text, and data with 4G LTE coverage at $7.99 a month with a two year commitment, Connect+ has the same coverage at $9.99 a month with a one year commitment, and the pay-as-you-go plan is $11.99 a month. The watch itself is $169.99.