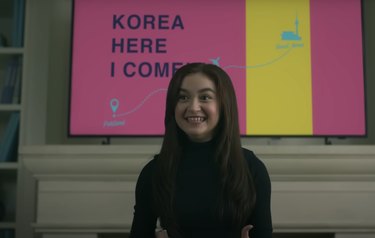 Netflix is really good at providing enough movies and shows to keep you entertained forever — or at least for another month.
Coming to Netflix in May are some exciting new titles, including "XO, Kitty," a spinoff of the popular Netflix movie "To All The Boys I've Loved Before." The show follows the little sister character as she embarks on her own quest to find love in South Korea.
Another fun one to watch is "Queen Charlotte: A Bridgerton Story," a prequel to "Bridgerton" that focuses on a young Queen Charlotte's rise to power.
If you feel like laughing, you're in luck. Next month will bring new stand-up specials from Wanda Sykes and Hannah Gadsby, as well as a new season of Tim Robinson's sketch comedy show "I Think You Should Leave."
Scroll on for the full list of new content coming to Netflix in May.
Austin Powers in Goldmember
Austin Powers: International Man of Mystery
Austin Powers: The Spy Who Shagged Me
The Curious Case of Benjamin Button
Lemony Snicket's A Series of Unfortunate Events
Love Village — NETFLIX SERIES
The Tailor — NETFLIX SERIES
Jewish Matchmaking — NETFLIX SERIES
Great British Baking Show: Juniors: Season 7 — NETFLIX SERIES
Larva Family — NETFLIX FAMILY
Queen Charlotte: A Bridgerton Story — NETFLIX SERIES
Sanctuary — NETFLIX SERIES
Justice League: Seasons 1-2
Justice League Unlimited: Seasons 1-2
Documentary Now!: Season 4
Hannah Gadsby: Something Special — NETFLIX COMEDY
Dance Brothers — NETFLIX SERIES
Missing: Dead or Alive? — NETFLIX DOCUMENTARY
Queen Cleopatra — NETFLIX DOCUMENTARY
Royalteen: Princess Margrethe — NETFLIX FILM
Ultraman: Season 3 — NETFLIX ANIME
Black Knight — NETFLIX SERIES
The Mother — NETFLIX FILM
Mulligan — NETFLIX SERIES
Queer Eye: Season 7 — NETFLIX SERIES
Anna Nicole Smith: You Don't Know Me — NETFLIX DOCUMENTARY
Faithfully Yours — NETFLIX FILM
La Reina del Sur: Season 3
McGREGOR FOREVER — NETFLIX DOCUMENTARY
Rhythm + Flow France: Season 2 — NETFLIX SERIES
Working: What We Do All Day — NETFLIX DOCUMENTARY
XO, Kitty — NETFLIX SERIES
Yakitori: Soldiers of Misfortune — NETFLIX SERIES
Astérix & Obélix: The Middle Kingdom — NETFLIX FILM
Kathal – A Jackfruit Mystery — NETFLIX FILM
Selling Sunset: Season 6 — NETFLIX SERIES
Young, Famous & African: Season 2 — NETFLIX SERIES
The Creature Cases: Chapter 3 — NETFLIX FAMILY
MerPeople — NETFLIX DOCUMENTARY
Victim/Suspect — NETFLIX DOCUMENTARY
Wanda Sykes: I'm An Entertainer — NETFLIX COMEDY
Hard Feelings — NETFLIX FILM
Mother's Day — NETFLIX FILM
Rhythm + Flow France: Season 2 — NETFLIX SERIES
The Ultimatum: Queer Love — NETFLIX SERIES
Barbecue Showdown: Season 2 — NETFLIX SERIES
Blood & Gold — NETFLIX FILM
Tin & Tina — NETFLIX FILM
Turn of the Tide — NETFLIX SERIES
I Think You Should Leave with Tim Robinson: Season 3 — NETFLIX COMEDY
Mixed by Erry – NETFLIX FILM