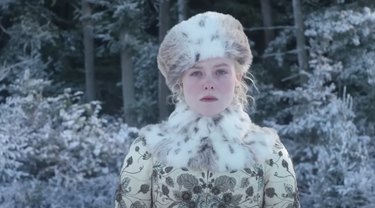 Hulu is adding a long list of movies and TV shows in May. As always, you'll have the chance to watch a slew of older movies like "Beetlejuice," "Selena," "Boogie Nights," "The Joy Luck Club," "Speed," and all four "Hunger Games" films.
Also worth check out is the third season of "The Great," a historical dramedy starring Elle Fanning, which loosely tells the story of Catherine the Great's reign over Russia. A promising film to watch is the 2023 remake of "White Men Can't Jump," which lands on Hulu May 19.
Scroll on for the full lineup coming to Hulu in May.
Naruto Shippuden: Complete Seasons 7- 8 (DUBBED) (Viz)
Billionaire Boys Club, 2018
Bobby Jones: Stroke Of Genius, 2004
Clash Of The Titans, 2010
The First Monday In May, 2016
The Haunting in Connecticut, 2009
The Hunger Games: Catching Fire, 2013
The Hunger Games: Mockingjay Part 2, 2015
The Hunger Games: Mockingjay Part 1, 2014
Once Upon a Time in America, 1984
Pokemon Detective Pikachu, 2019
Speed 2: Cruise Control, 1997
A Small Light: Limited Series Premiere (National Geographic)
1000-lb Sisters: Complete Season 1 (TLC)
Beach Hunters: Complete Seasons 1-3 (HGTV)
Build It Bigger: Complete Seasons 2-4 (Discovery)
Cake Wars: Complete Seasons 3, 4, 9 (Food Network)
Casey Anthony: An American Murder Mystery: Complete Season 1 (ID)
The Case That Haunts Me: Complete Season 1 (ID)
Children of the Snow: Complete Season 1 (ID)
Curb Appeal: Complete Seasons 20-21 (HGTV)
Curb Appeal: The Block: Complete Seasons 1-2 (HGTV)
Cutthroat Kitchen: Complete Season 7 (Food Network)
Dr. Pimple Popper: Complete Seasons 1-3 TLC
Evil Talks: Chilling Confessions: Complete Season 1 (ID)
Flea Market Flip: Complete Seasons 6-9 (HGTV)
The Golden State Killer: It's Not Over: Complete Season 1 (ID)
Island Life: Complete Seasons 1-4 (HGTV)
Jodi Arias: An American Murder Mystery: Complete Season 1 (ID)
Man Vs Wild: Complete Seasons 1-3 (Discovery)
Murder Comes Home: Complete Season 1 (Discovery)
Murder in Paradise: Complete Season 1 (ID)
Naked and Afraid: Complete Season 3(Discovery)
Pamela Smart: An American Murder Mystery: Complete Season 1 (ID)
Say Yes to the Dress: Atlanta: Complete Seasons 1-4 (TLC)
Susan Powell: An ID Murder Mystery: Complete Season 1 (ID)
Unexpected: Complete Seasons 1-3 (ID)
Who Killed Jeffrey Epstein: Complete Season 1(Discovery)
Both Sides of the Blade, 2022
Taste the Nation with Padma Lakshmi: Complete Season 2 (Hulu Original)
Elton John Live: Farewell from Dodger Stadium, 2022 (Disney Plus)
Beyblade QUADSTRIKE: Season 7A (Disney XD)
Jeopardy Masters: Series Premiere (ABC)
FX's Class of '09: Two-Episode Series Premiere (Only on Hulu)
Judge Steve Harvey: Season 2 Premiere (ABC)
Bono & The Edge: A Sort of Homecoming with David Letterman, 2023 (Disney Plus)
The Great: Complete Season 3 (Hulu Original)
Boonie Bears: Back to Earth, 2022
Dangie Bros Ultimate Mishmash: Complete Season 1 (Pocketwatch)
La Chica Invisible: Complete Season 1 (Star)
Popstar: Never Stop Never Stopping, 2016
Queenmaker: The Making of an It Girl (2023) (Hulu Original)
Texas True Crime: Complete Season 2 (ABC)
White Men Can't Jump (2023) (Hulu Original)
The Secrets of Hillsong: Two-Episode Docuseries Premiere (FX)
How I Met Your Father: Season 2B Premiere (Hulu Original)
Crime Scene Kitchen: Season 2 Premiere (Fox)
The Clearing: Two-Episode Series Premiere (Hulu Original)
Beat Shazam: Season 6 Premiere (Fox)
Don't Forget the Lyrics: Season 2 Premiere(Fox)
The Kardashians: Season 3 Premiere (Hulu Original)
Gordon Ramsay's Food Stars: Series Premiere (Fox)
MasterChef: Season 13 Premiere (Fox)
Mayans M.C.: Final Season Premiere (FX)
Prank Panel: Series Premiere (ABC)
Jelly Roll: Save Me: Special (Hulu Original)