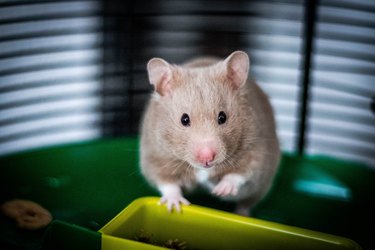 As you can probably imagine, Uber drivers find some interesting things that have been left in their cars. Of course, they find their fair share of phones that passengers have forgotten, but a fire sword? That's another level of lost and found.
Uber published its annual Lost & Found Index, a snapshot of Uber's most commonly forgotten and most unique lost items. The index serves as a reminder to Uber users that they can use the app to retrieve lost items, but it mostly serves as entertainment for everyone else who thinks that forgetting your hamster in an Uber (or bringing your Hamster in the first place) is odd.
Check out the full list below.
‌The 10 most commonly forgotten items:‌
Clothing
Phones
Backpacks and purses
Wallets
Headphones
Jewelry
Keys
Books
Laptops
Watches
‌The 10 most "forgetful" cities:‌
Jacksonville, FL
San Antonio, TX
Palm Springs, CA
Houston, TX
Salt Lake City, UT
Miami, FL
Atlanta, GA
Indianapolis, IN
Kansas City, KC
St. Louis, MO
‌The 50 most unique lost items:‌
Danny DeVito Christmas ornament
MY DOG IS IN THE CAR!!! A toy poodle.
Blue cap that says 'i love the smell of jet fuel in the morning'
Fog machine
Some bowling rags
Ankle monitor
My unicycle
16 oz of fake blood
A printer and remote-controlled vibrator
A pin with Jesus holding slice of pizza
Small camping stove and my funeral pamphlets
Stainless steel gua sha tool
Cat collar that says 'Maui' on it
My calculator and my tacos
Small stone carved whales
Sentimental green pen
Statue of Liberty green foam crown
A lightsaber
Tamagotchi, light blue, egg shaped. And nuts.
My hamsters are in her car
Hermes scarves
1/2 a gallon of Fireball
Mannequin wig head
6 cheesecakes
My happy sauce
Britney spears fantasy perfume
'Taming of the Shrew' by Shakespeare
2 fingernails
A fire sword.
A small, felt, stuffed animal that I made
Two painted rat traps
Tattoo ink and gold antlers
A power of attorney document issued by Turkish consulate
2 Pet Turtles
Packets and bundles of fake hair
I lost my girlfriend
Bidet
lotion and chicken wings
I left a slab of bluefin tuna for sushi on the floorboard of the back seat.
One Gucci loafer
Rash cream
An important pregnancy test
Self-respect, mostly.
A feather
Foley catheter insertion tray kit
Slushy machine
Paintings of my wife
Weight loss surgery guide
Horns and a viking helmet
My friends fake tooth