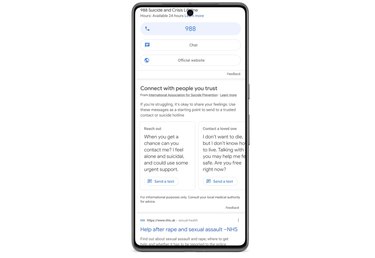 To coincide with May's annual Mental Health Awareness Month, Google is making a small change that can make a big impact.
The company has announced that its U.S. search results for suicide-related terms will soon be updated to include text message templates that can be sent to loved ones asking for help. The purpose of the new feature is to help those who don't have the ability or energy to write their own messages.
"People often turn to Google search in some of their most vulnerable moments," Megan Jones Bell, Google's director of consumer and mental health, wrote in a blog post. "In the context of a crisis, it is crucial to inspire hope and provide simple information that is easy to act on."
Since last year, when a search for anything related to suicide is done on Google, the 988 Suicide and Crisis Lifeline has appeared at the top of the page. The new templates will be visible right below that so they will appear before any search results. If they're performing the searching using their phone, users will be able to choose from several pre-written messages before tapping the "Send a text" prompt which will automatically open their phone's messaging app and paste it. It isn't clear how it'll work if a user is searching from a computer.
Google worked with the International Association for Suicide Prevention to develop the potentially life-saving messages. Here are a couple of examples: "I'm struggling right now and just need to talk to someone — can we chat?" and "When you get a chance can you contact me? I feel alone and suicidal, and could use some urgent support."
When someone is feeling severely depressed and having suicidal thoughts, even the smallest gesture can help save their life, and in this case, it could be a quick Google search.