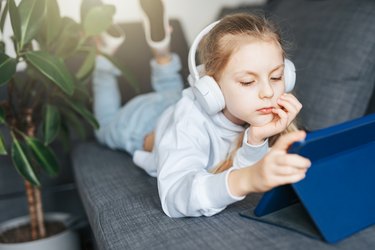 Kids have a tendency to hold their devices too close to their eyes. Even though it may seem like an urban legend, watching anything too close for too long can actually cause permanent damage. When our eyes spend too much time focusing on close up objects like a phone or tablet, the eyeballs elongate, which prevents eyes from bending light like they should, ultimately increasing nearsightedness where distant objects appear blurry.
Holding a device too close to the eyes isn't just a problem that affects kids — grown-ups do it, too. Apple will be releasing a new feature with iOS 17 and iPadOS 17 called Screen Distance, which is integrated with the TrueDepth camera (the one used by Face ID) to detect when someone is holding a device closer than 12 inches for a couple of minutes. The feature will then offer a warning to move the device away from your face.
Screen Distance is off by default, so you have to enable it for it to work. To turn it on, go to Setting > Screen Time > Screen Distance and tap the button on the right.
Only iPhones or iPads that have Face ID will be able to use Screen Distance. The feature is currently in the developer beta of iOS 17 and iPadOS 17 with the final version arriving for everyone sometime the fall.