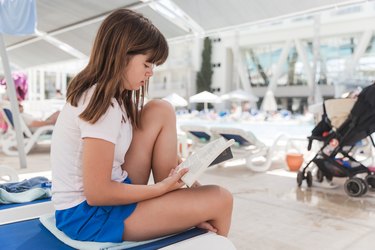 School's out for summer, but that doesn't mean your kids should stop learning. It's important for kids of all ages to read during their summer break so their brains are ready to jump back into the classroom in the fall. Beanstack is an app that'll actually make summer reading fun for your kids.
The Beanstack Tracker motivates kids to read via its reading challenges and activities that let kids earn prizes for their reading.
To use Beanstack, you have to have a library card with your local library, or you can get set up with your school or company that uses the app. You can also sign up directly through the Beanstack Go app as an independent user to log reading, participate in themed reading challenges, and track reading progress.
After your child reads, they can use your phone (or theirs if they have one) to log the title of the book they read by scanning the barcode on the back of the book or by entering the title and taking a picture of the front cover. They can also log how many pages they got through and the number of minutes they spent reading. In addition, they can write book reviews and participate in activities that can earn them rewards, like a free book at your local library that can be redeemed when you visit.
You can sign up multiple family members with each person earning their own achievements, reading streaks, etc. In addition to the summer reading program, Beanstack offers various challenges throughout the year, including 1000 Books Before Kindergarten, Winter Reading Challenge, and more.