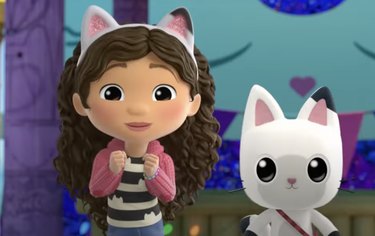 Since August is usually still sweltering hot in most parts of the country, you might as well stay cool by watching endless shows and movies on Netflix.
Next month, the streamer is bringing on plenty of new content, including Gal Gadot's latest action film "Heart of Stone," the weekly sports documentary series "Untold," part 2 of the second season of "The Lincoln Lawyer," season 8 of "Gabby's Dollhouse," and several other Netflix originals.
Scroll on for the full lineup coming to Netflix in August.
Untold: Jake Paul the Problem Child -- NETFLIX DOCUMENTARY
Cloudy with a Chance of Meatballs 2
The Fast and the Furious: Tokyo Drift
Madagascar 3: Europe's Most Wanted
Mark Cavendish: Never Enough (UK) -- NETFLIX DOCUMENTARY
Poisoned: The Dirty Truth About Your Food -- NETFLIX DOCUMENTARY
Soulcatcher (PL) -- NETFLIX FILM
Head to Head (SA) -- NETFLIX FILM
Heartstopper: Season 2 (UK) -- NETFLIX SERIES
The Last Hours of Mario Biondo (ES) -- NETFLIX DOCUMENTARY
The Lincoln Lawyer: Season 2 Part 2 -- NETFLIX SERIES
Zom 100: Bucket List of the Dead (JP) -- NETFLIX FILM
The Big Nailed It Baking Challenge -- NETFLIX SERIES
Fatal Seduction: Volume 2 (ZA) -- NETFLIX SERIES
Gabby's Dollhouse: Season 8 -- NETFLIX FAMILY
The Seven Deadly Sins: Grudge of Edinburgh Part 2 (JP) -- NETFLIX ANIME
Untold: Johnny Football -- NETFLIX DOCUMENTARY (New UNTOLD stories weekly)
Zombieverse (KR) -- NETFLIX SERIES
Ladies First: A Story of Women in Hip-Hop -- NETFLIX DOCUMENTARY
Marry My Dead Body (TW) -- NETFLIX FILM
Mech Cadets -- NETFLIX FAMILY
Painkiller -- NETFLIX SERIES
Down for Love (NZ) -- NETFLIX DOCUMENTARY
Heart of Stone -- NETFLIX FILM
Behind Your Touch (KR) -- NETFLIX SERIES
The Wiggles: Ready, Steady, Wiggle: Season 4
Jared Freid: 37 and Single -- NETFLIX COMEDY
Untold: Hall of Shame -- NETFLIX DOCUMENTARY (New UNTOLD stories weekly)
At Home With The Furys (UK) -- NETFLIX SERIES
The Chosen One (MX) -- NETFLIX SERIES
DEPP V HEARD (GB) -- NETFLIX DOCUMENTARY
My Dad the Bounty Hunter: Season 2 -- NETFLIX FAMILY\
The Upshaws: Part 4 -- NETFLIX SERIES
10 Days of a Bad Man -- NETFLIX FILM
Love, Sex and 30 Candles (ZA) -- NETFLIX FILM
Mask Girl (KR) -- NETFLIX SERIES
The Monkey King -- NETFLIX FAMILY
LIGHTHOUSE (JP) -- NETFLIX SERIES
Untold: Swamp Kings -- NETFLIX DOCUMENTARY (New UNTOLD stories weekly)
Destined with You (KR) -- NETFLIX SERIES
Squared Love Everlasting (PL) -- NETFLIX FILM
The Ultimatum: Marry or Move On: Season 2 -- NETFLIX SERIES
Baki Hanma: Season 2 Part 2 (JP) -- NETFLIX ANIME
Ragnarok: Season 3 (NO) -- NETFLIX SERIES
Who is Erin Carter? (UK) -- NETFLIX SERIES
Killer Book Club -- NETFLIX FILM
You Are So Not Invited to My Bat Mitzvah -- NETFLIX FILM
Live to 100: Secrets of the Blue Zones -- NETFLIX DOCUMENTARY
Miss Adrenaline: A Tale of Twins (CO) -- NETFLIX SERIES
The Ultimatum: Marry or Move On: Season 2 -- NETFLIX SERIES (new episodes)
Choose Love -- NETFLIX FILM
Karate Sheep: Season 2 (FR) -- NETFLIX FAMILY
One Piece -- NETFLIX SERIES