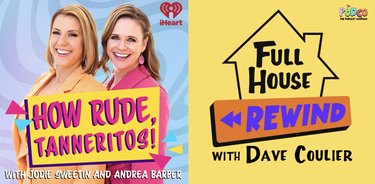 It's been nearly three decades since "Full House" aired it's very last episode on ABC — the one where Michelle has amnesia and the Tanners regale her with stories of their past to jog her memory. Then there was the "Fuller House" Netflix reboot that gave fans five seasons of nostalgia but came to an end back in 2020. So, if you need more "Full House" in your life, there are two new podcasts you should check out.
Dave Coulier, Jodie Sweetin, and Andrea Barber have launched two "Full House" podcasts, both of which are dedicated to rewatching all 192 episodes of the show and discussing and reliving one episode at a time. Coulier launched "Full House Rewind" and Sweetin and Barber debuted "How Rude, Tanneritos!" just a few days later.
The two podcasts are similar in that the content is all about the '80s/'90s sitcom, but Coulier's podcast is more of a video format and involves the popular characters he voiced on the show, like Bullwinkle and Popeye. Sweetin and Barber's podcast is audio-centric and focuses on their behind the scenes memories of each episode, which is fun to hear since Sweetin has never actually watched the show, so her memories are purely from real life being on set.
Both plan to interview cast and crew from the show — Coulier's first guest was "Full House" creator Jeff Franklin.
It may seem odd that the two podcasts debuted at the same time, but in an interview with People, Sweetin and Barber insist that there's no rivalry and say there's room for everyone to have a seat at the table while supporting one another.
"Dave's is so different, too, than what ours is," Sweetin says. "His is more geared towards a video format. Ours is really audio with some clips and stuff of video. ... He's got Mr. Woodchuck on there and all this stuff. And we're going to do his podcast. He's going to come on and do ours. There's no weird thing where we're not doing each other's shows or anything like that."
The biggest difference between the podcasts, aside from the format, is the hosts' perspectives. Sweetin was 5 years old when she started on the show and Barber was 10, so they essentially grew up on set, while Coulier was an up and coming comic.
Due to the ongoing SAF-AFTRA strike, Coulier announced after just one episode that his podcast will be taking a break until the strike is over. However, "How Rude, Tanneritos!" has released eight episodes, with a new one popping up every Monday.
You can listen to both podcasts everywhere podcasts are available.