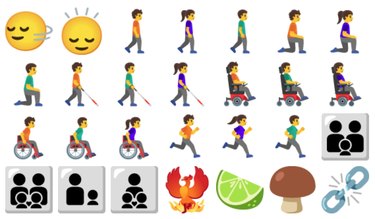 At some point in the near future, you can expect a slew of new emoji to appear as options on your phone. The Unicode Consortium has officially approved Emoji 15.1, and while there aren't as many new emoji in the lineup as previous releases, there are some exciting ones coming.
As Emojipedia pointed out, new emoji include shaking heads, a lime, a mushroom, a broken chain, a Phoenix, a few emoji indicating different family sizes, and several emoji featuring people in both manual and motorized wheelchairs as well as people using mobility canes.
There are a total of 118 new emoji approved in Emoji 15.1, including six new concepts, four gender-neutral family emoji combinations, and 108 versions of existing people emoji facing different directions.
No word on when the new emoji will appear on your device, but it often takes months for big companies like Apple and Microsoft to build the new emoji support into their software.