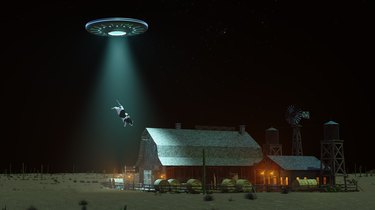 Aliens are among us, or at least that's what Amazon wants proof of. The company is offering $1 million to whoever turns over actual, scientifically proven footage of extraterrestrial life that's been captured on their Ring doorbell cameras. That could mean small green aliens, a flying saucer, E.T., or likely some sort of being that hasn't been imagined for movies.
"Sensors have been picking up rogue signals from the Neighborhood Nebula," Ring noted on its new million dollar sighting website. "Might be nothing. Might be something. That's where you come in."
Now until Nov. 3, 2023, Ring will pay for the capture of an extraterrestrial sighting on your indoor or outdoor Ring device. To be considered, you have to submit scientific evidence documenting the alien, which is defined as an "unaltered video (with audio) recorded with a Ring device that's a maximum of 1 minute long." To see the rest of the criteria, visit the site.
If you don't happen to capture an alien on your Ring device, the company is giving away $500 Amazon gift cards for the most creative submission, which includes costumes, accessories, makeup props, etc.