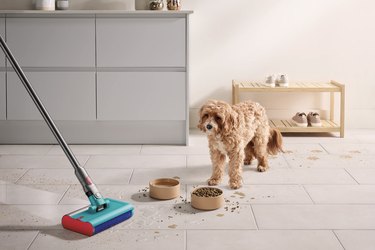 It's no secret that Dyson products are expensive, but it's also no secret that they're highly efficient, incredibly durable, and super cool. Dyson's latest vacuum is no exception.
Dyson launched the V15s Detect Submarine last month, and I was able to test it out in my home with two messy kids and a dog who tends to drop more water on the hardwood floor than she gets in her mouth. The cordless stick vacuum and mop combo is the company's first-ever vacuum with a wet element, streamlining floor cleaning so you can ditch the mops and clunky vacuums.
The Submarine can vacuum, wash hard floors, and remove dust, spills, stains, and even hair belonging to both dogs and humans. In fact, the vacuum has an anti-tangle comb that prevents hair from wrapping around the barrel.
Within the standard tools and attachments are three main attachments: a carpet head with excellent suction, a cleaning head for hard floors that features a green LED light to highlight dirt and debris on the floor, and a submarine attachment for mopping. The head for mopping is compatible with most gentle, common floor detergents.
The vacuum can run for 60 minutes before needing a recharge, which is generally plenty of time to get most if not all of your vacuuming done depending on the size of your home. Its cleaner head covers 1,000 square feet with the 300 milliliter water tank.
An extra cool feature I enjoy is the LCD screen that shows the total picked up dirt and debris, which is very satisfying. The screen also displays the remaining runtime and maintenance alerts.