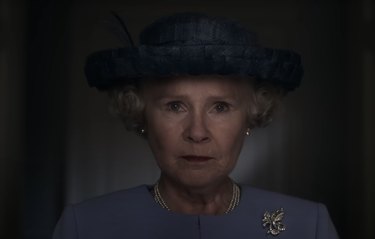 If you've run out of things to watch on Netflix, November is bringing loads of new content your way.
You'll get some new shows, like "The Light We Cannot See," a four-part miniseries that follows a French girl who is blind and a German soldier as their paths connect during WWII, as well as "A Daily Dose of Sunshine" about a kind-hearted nurse working in psychiatry who works hard to be a daily dose of sunshine for her patients.
The first four episodes of season six of "The Crown" will land on Netflix next month. The final season takes place in 1997 after the end of Prince Charles and Diana's marriage. The remaining six episodes will be available on Dec. 14.
You can see the full list of movies and shows coming to Netflix next month below.
The Railway Men—Netflix Series
Replacing Chef Chico—Netflix Series
Hurricane Season—Netflix Film
Mysteries of the Faith—Netflix Documentary
Nuovo Olimpo—Netflix Film
Till Murder Do Us Part: Soering vs. Haysom—Netflix Documentary
13 Hours: The Secret Soldiers of Benghazi
Love in the Wild: Season 1
Scott Pilgrim vs. the World
Six Feet Under: Seasons 1-5
All the Light We Cannot See—Netflix Series
Cigarette Girl—Netflix Series
Higuita: The Way of the Scorpion—Netflix Documentary
Unicorn Academy—Netflix Family
Blue Eye Samurai—Netflix Anime
Daily Dose of Sunshine—Netflix Series
Ferry: The Series—Netflix Series
Selling Sunset: Season 7—Netflix Series
The Tailor: Season 3—Netflix Series
Vacaciones de verano—Netflix Film
The Amazing Race: Season 17
The Amazing Race: Season 31
Lopez vs. Lopez: Season 1
The Improv: 60 and Still Standing—Netflix Comedy
The Billionaire, the Butler and the Boyfriend—Netflix Documentary
The Claus Family 3—Netflix Film
Cyberbunker: The Criminal Underworld—Netflix Documentary
Escaping Twin Flames—Netflix Documentary
Robbie Williams—Netflix Documentary
Temple of Film: 100 Years of the Egyptian Theatre—Netflix Documentary
At the Moment—Netflix Series
Team Ninja Warrior: Season 2
Criminal Code—Netflix Series
Dubai Bling: Season 2—Netflix Series
How to Become a Mob Boss—Netflix Documentary
The Netflix Cup: Swing to Survive—Netflix Live Event
Suburræterna—Netflix Series
First Wives Club: Seasons 1-3
Matt Rife: Natural Selection—Netflix Comedy
Million Dollar Decorators: Season 1
Best. Christmas. Ever!—Netflix Film
The Crown: Season 6 Part 1—Netflix Series
In Love and Deep Water—Netflix Film
All-Time High—Netflix Film
CoComelon Lane—Netflix Family
The Dads—Netflix Documentary
The Queenstown Kings—Netflix Film
Sagrada Familia: Season 2—Netflix Series
Scott Pilgrim Takes Off—Netflix Anime
Stamped from the Beginning—Netflix Documentary
Shahs of Sunset: Seasons 1-2
Crime Diaries: The Celebrity Stylist—Netflix Film
High on the Hog: How African American Cuisine Transformed America: Season 2—Netflix Documentary
Squid Game: The Challenge—Netflix Series
Love Island USA: Season 3
My Little Pony: Make Your Mark: Chapter 6—Netflix Family
A Nearly Normal Family—Netflix Series
I Don't Expect Anyone to Believe Me—Netflix Film
Last Call for Istanbul—Netflix Film
Wedding Games—Netflix Film
Go Dog Go: Season 4—Netflix Family
Comedy Royale—Netflix Series
Love Like a K-Drama—Netflix Series
Verified Stand-Up—Netflix Comedy
American Symphony—Netflix Documentary
Bad Surgeon: Love Under the Knife—Netflix Documentary
The Bad Guys: A Very Bad Holiday—Netflix Family
Family Switch—Netflix Film
Obliterated—Netflix Series
Virgin River: Season 5 Part 2—Netflix Series