Though the "two cans connected by a string" method of person-to-person communication really does work, it's completely impractical over long distances—especially if both people are moving. That's why some 80 years ago, Canadian Donald Hings invented portable field radios (later coined "walkie-talkies"), ushering in the age of mobile and wireless communications.

Of course, nowadays we've got cordless phones, cellphones and video chatting, not to mention texting, instant messaging, Snapchat and Instagram. With all these communications options, how can two-way radios still be relevant?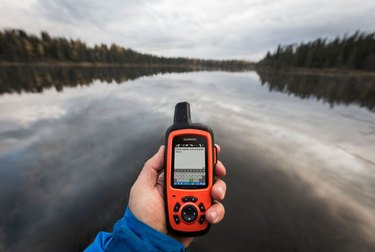 Well first off, because we're more mobile than ever. Second, we expect to be reachable by voice and/or text no matter where we are. Most importantly, as you'll see from the below list of modern devices we've rounded up for you, walkie-talkies (and the like) have certainly gotten pretty technologically advanced over the years.
Spin Master Spy Gear Video Walkie Talkie
That's right, the contemporary version of the classic handheld communicator can now stream video. (What'd you expect, old timer?) So as kids actively play out various missions, they can see each other live from up to 160 feet away.
To transmit audio, they have a few options: They can just press a button in the classic walkie-talkie style; plug in earphones and listen in without pressing the button; or activate Remote Spy Mode, which allows them to essentially use one of the units as a surveillance camera that automatically transmits a live feed for 15 minutes, until it shuts off to conserve power.

Though these next-gen playthings retail for $60, we've seen them for almost a third less right on Spin Master's site.
Cobra Floating Walkie Talkies
For more grownup adventures, Cobra's ACXT 1035R FLT offers an impressive 37-mile range (under literally peak conditions) with thousands of channel combinations. Plus, its sufficiently rugged body is not only waterproof, but (as its name implies) floats.
Although we appreciate the convenience of it vibrating to let you know about incoming transmissions and allowing you to make outgoing transmissions hands-free in a voice-activated mode, our favorite feature is its unique ability to automatically store and allow you to replay the last 20 seconds of any transmission. Along with automatically squelching weak signals and unwanted noise, it's definitely a world apart from the typically noisy, unreliable walkie-talkies of yesteryear.

Of course, it also helps that this ready-for-anything device (available for just under $100 a pair) comes with rubberized grips, weather alerts, a built-in flashlight and the ability to either be recharged or run off alkaline batteries as well.
Garmin Rino 755t Handheld
Communicating unit-to-unit by voice or text is the very beginning of what this durable, highly functional, rhinoceros-reminiscent gadget can do. It packs GPS, a barometric altimeter and a 3-axis digital compass. So its bright, 3-inch touchscreen can help you quickly figure your exact position relative to both the surrounding topography and your friends, with whom you can share your routes, waypoints and geocaches.
A built-in camera and microSD card slot allow you to shoot photos along your journey (geotagged, if you wish). It'll show you real-time weather conditions. And you can even synch it to your phone via Bluetooth, so it'll display call and text notifications (though it's probably more liberating if you don't).

At over $600, it's certainly a bit pricey. But you won't easily find a more fully featured 2-way radio device (or your way home from) anywhere.
Push-to-Talk Cellular Service
Although it's fun to get extra gadgets, you may already have a communications device with instant voice communications capabilities right in your pocket. Yes, we mean your mobile phone. But no, we're not talking about typical cell calls with the dialing and ringing and buddy who never screens you picking up right away to yap.
The big three U.S. carriers (Verizon, Sprint, and AT&T, but not T-Mobile) each offer their version of a walkie-talkie-like service. And while they do offer some newer phones—such as the Samsung Galaxy S7, LG G5 and Moto Z Force Droid—they tend to lean heavier on legacy and more durable phones that you might not be familiar with.

More importantly, even though they may do a reasonable job of emulating the 2-way radio experience, they still can't touch what Nextel offered back in the day (before it was bought by Sprint). And unfortunately, all such efforts suffer from the constraints of their respective cellular network coverage and reliability.
Garmin inReach Global Satellite Communicator
As long as you have a clear shot at the sky (and either a seasonal or annual service subscription, which runs $12 to $100 per month), inReach picks up satellite signals to send text messages to any cellphone or email address from anywhere in the world.
The built-in GPS enables a range of functions, from location tracking and basic navigation to route and waypoint planning to accessing a personal webpage where others can follow your journey. And if need be, you can send an interactive, two-way S.O.S. with 24-hour emergency assistance.

With up to 100 hours of battery life in tracking mode and 30 days in power saving mode, these water- and impact-resistant globetrotting devices are designed to last just as long as (if not longer than) you can. So whether hiking, boating, golfing, hunting or flying, you and your loved ones can maintain peace of mind no matter what scale your sojourn takes on.
goTenna Mesh
Alternatively, you could go totally off-the-grid with goTenna. It connects via Bluetooth to your Android or Apple phone (to borrow its brains), but doesn't rely on a Wi-Fi or cellular network. So you can text your buddy in the most—or least—crowded places imaginable, even when your phone has no bars.
Just to be clear, this isn't for voice. So it's not really a walkie-talkie. Rather, it allows you privately message an individual or group, or publicly broadcast a message to any goTenna devices within range. In that sense, it's more of a walkie-textie (if you'll pardon the term), though it can also share your location and offers free offline maps.

In particular, what makes the even smaller, sleeker upcoming Mesh model more effective in the wild is its ability to securely bounce private messages through other goTenna users in the area, essentially doubling or tripling your range to work between units several miles apart.

Expected to ship in March, it's currently available with special pre-order pricing ($149 for 2, $289 for 4).
Beartooth
Similar to goTenna, Beartooth pairs to your phone, functioning through an app to offer encrypted off-the-grid communications. But in this case, it's with other Beartooth units in the area, which (also combined through a mesh network) allow you to deliver both voice and text over an extended range up to 10 miles.
Other features include high-res offline topographical maps for location sharing and a big enough battery that you can use it to charge your phone one to two times, keeping you on-the-go that much longer. (That also makes it significantly bigger than goTenna, though still just 2 1/2-by-4 inches and under 5 ounces.)

Beartooth is available at the discounted rate of $179 per pair at least until they begin shipping in late February, at which point pricing may change significantly. But the good news is that once you buy the device that's it, there's no charge for service.
Sena 30K Motorcycle Bluetooth Communication System
Just as goTenna and Beartooth make great choices for adventurous hikers, explorers and music festival goers, Sena's smart new 30K (slated for release in the spring/summer timeframe) is perfect for motorcyclists. It allows a group of up to 16 riders spanning a range of over a mile to converse on an adaptive mesh network—which means if one rider falls out of range, it doesn't cut off everyone else's connections.
Even better, because these devices pack a separate Bluetooth processor, they can be used for simultaneous phone conversations, listening to music and GPS directions, along with making hands-free voice commands to navigate through its various features. It's as safe and smart as any two-wheeling audio multitasking gets.
Motorola Talkabout T480 Emergency Two-Way Radio
Rather than focusing on fun or extreme exploring, the Talkabout T480 helps families prepare for potential emergencies. As it sits charging in its base on your desktop, this affordable radio (sold individually for $70) can play any music or news on the FM dial. But this portable, power-conscious handset also delivers real-time weather alerts, so you can stay ahead of storms and such.
In case you do happen to get caught in a squall, the radio's weatherproof. Plus it sports a built-in LED flashlight. And if matters get serious enough to warrant it, a single button triggers a blaring siren and voice alerts.

The best of its other features include up to a 35-mile range, with hands-free communications and compatibility to any other FRS/GMRS radio (such as the above Cobra), given that you've selected the right channel and privacy code from the over 2,500 possible combinations. So it's a walkie-talkie you want within arm's reach all the time, not just when you're actually walking and/or talking.