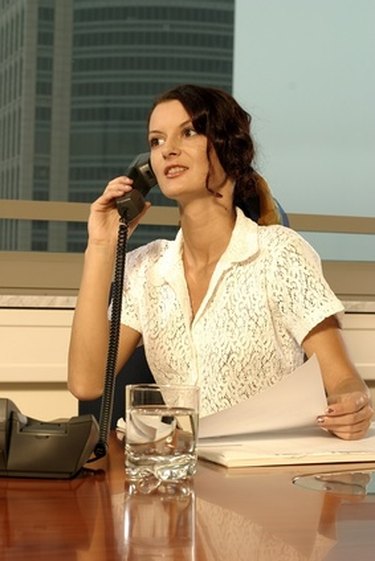 Avaya is a telecommunications company that specializes in business systems. Their 6400 series telephones include 6408 sets that have programmable line buttons, a display screen and standard feature buttons/keys.
Line Buttons
The 6408 has a line of eight buttons on the side of the telephone. The buttons are programmed with features by your system administrator. The first three buttons are designated as your phone lines. When a call comes in, it will ring on your first line button. If a second call comes in while you are on the first line, the second line will ring once and then flash. You can either answer the second call by putting your first caller on hold by pressing the red "Hold" key above the dialpad and pressing the second line to answer the second call, or allow the second caller to automatically go to voicemail or your designated phone coverage after several rings.
Display Screen
Depending on how your company's system is programmed, your display screen will show the extension and name of an internal caller, the telephone number of an outside caller and host additional features.
Standard Features
Your standard feature buttons are located above the dialpad, and include speaker, mute, hold, redial, conference and transfer.