Typically, caller IDs marked "Restricted" are from people or businesses who have blocked their names and/or phone numbers from appearing on recipients' caller ID displays, and caller IDs marked "Unavailable" are from numbers that your carrier was unable to identify. Techniques are available that are both free and fee-based, which can block restricted and unavailable calls (as well as other blocked, or masked, calls), so they won't ring through to your cell phone.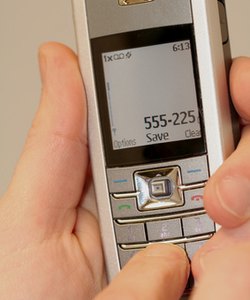 Step
Call your cell phone provider. Ask your provider if they can block restricted and unavailable calls to your cell phone. Some providers can block specific incoming calls for a monthly fee, and some only offer blocking for all incoming calls (not specific ones) at no charge. Your cell phone provider's phone number is on your monthly statement and on the main page of their website.
Step
Set up a blocking feature on your cell phone. Check the call blocking options available on your cell phone. Typically, these options are under "Settings" or "Security." Depending on your phone model, you may be able to restrict or block certain types of incoming calls. If you're unsure if your phone model allows call blocking, check its documentation or call your cell phone manufacturer. If you're prompted for a lock code, use the last four digits of your cell phone number.
Step
Subscribe to a call-blocking service. One such service is Trapcall, which lets you block specific types of incoming calls as well as set up other features, such as voice-to-text transcription, call recording and more. Trapcall works on all cell phones and charges different monthly fees (depending on your package of services). For a free trial, go to Trapcall.com, press the "Try Trapcall free" on the lower right side of the web page and follow the instructions.
Step
Register your number with the National Do Not Call Registry. One way to filter blocked calls, which might be from telemarketers or other sellers with masked "Unavailable" caller IDs, is to register your cell phone number for free with the National Do Not Call Registry. Go to Donotcall.gov, press the "Register Now" button and follow the instructions. Note: You will still receive calls from political organizations, charities, telephone surveyors, companies with which you have an existing business relationship or those with whom you have a written agreement to receive their calls.