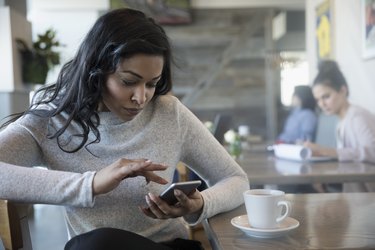 As landlines lost their hold on the American phone market, telemarketers migrated to cellphones. The calls often come in with the phone number blocked from displaying on your Caller ID, a clever move designed to trick you into answering. There are ways to stop these unwanted calls, including blocking phone numbers, using apps provided by your cellphone carrier, and downloading third-party apps.
Block Restricted Calls
If you're bombarded with nuisance calls throughout the day, you may not realize there's already a solution. Some of the top carriers have recently come up with apps designed to protect their customers from unwanted calls. You should have gotten a notice if your carrier offers such a solution, but it's worth checking into if you didn't.
Many smartphones have call-blocking features built in, but you'll quickly notice those don't catch everything. Some carriers, such as Verizon and AT&T, block numbers through apps that are exclusively available to the company's customers. If your cellphone provider doesn't have such a service, you can use third-party apps to block unwanted calls.
Provider-Based Call Blocking
Like many carriers, Verizon is taking steps behind the scenes to protect customers from spam calls, but you can add a layer of protection with the Call Filter, which has a variety of features to help customers on Verizon block numbers. They include the ability to block specific numbers manually, alerts that let you know when a call is likely to be spam, and a way to report numbers as problematic.
Verizon's top competitor, AT&T, has its own app that blocks calls on its customer's cellphones. AT&T Call Protect detects and blocks incoming calls from those most likely to be fraudsters. You also receive an alert when an incoming call may be spam, along with the ability to easily block unwanted calls.
Phone-Specific Call Blocking
Even if you don't have access to an AT&T or Verizon block number app, you may be able to stop unwanted calls through your phone. Apple is rolling out enhanced features for iPhones that block incoming calls from unknown numbers. This is an optional feature that lets you decide whether you want to silence unknown callers.
Currently, the only way to block unwanted calls on your Android device is to block incoming calls from specific numbers, which isn't much help if the calls are coming in from unknown numbers. You can block calls on an Android cellphone by setting it up to only allow calls from people in your contacts list, but that can lead you to miss important calls.
National Do Not Call Registry
If you haven't already, you should add your cellphone number to the National Do Not Call Registry. Go to donotcall.gov and input your information. The service is free. Although the registry can't block calls on cellphones after the spammer initiates the call, telemarketers are supposed to avoid calling any numbers on the list.
If you think you may have already registered to block restricted calls, and they're still coming through, you can verify that you're registered at that same site. Click on Verify Your Registration and input your information.
Special Call-Blocking Apps
A few third-party apps available for iOS and Android phones can block restricted calls. In general, they use a list of known spammers to keep calls from coming through. Here are a few of the top apps:
Nomorobo: The free version is for landlines only. For cellphone protection, you have to pay a monthly fee.
Hiya: The basic version of Hiya is free and gives you everything you need to reduce unwanted calls. A premium version is available for a monthly or yearly fee; it offers up to 200 premium name lookups a month and premium Caller ID.
RoboKiller: After a free trial, you pay a fee to continue to access the service. Pricing is based on the features you choose. What sets this app apart is that it doesn't just block spam calls, it also answers with a time-wasting message, allowing you to "get revenge on robocallers."