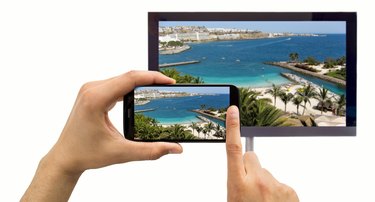 When looking at something on the small screen of your cellphone, you may get the idea to attempt to connect your phone to your flat-screen TV. While not every cellphone has this capability, it is possible with some of the various cellphones on the market. Sometimes this requires a special cable or device to make the connection.
IPhone Cables
If you have an iPhone, one way that you could potentially connect your phone to your television is with a cable. The HDMI adapter from Apple is a cable that hooks up to your iPhone and then plugs directly into the HD input of your TV. This allows you to mirror the screen of your iPhone on the TV. With a component cable, you can show video from certain apps on your iPhone. Some older TVs may require a composite cable instead of a component cable or HDMI cable.
Nokia Phones
If you have a Nokia cellphone, you may be able to display content from your phone on a flat-screen TV. To make this work, you will need to download an application called Nokia Big Screen. In addition to downloading the app, you will need an HDMI cable to connect your phone and your TV. At that point, you use the app to watch videos, look at photos and listen to music at your convenience.
AirPlay
Another option to consider when you have an iPhone as AirPlay. With AirPlay, you have the ability to route content from your iPhone to your TV without any wires. To make this work, you will need to get an Apple TV and hook it up to your flat screen. Once you set it up, you can simply push the AirPlay button on your phone when watching video and it will be sent to the Apple TV and then your television screen.
Limited Content
When using one of these solutions, you have to be aware that some of the content on your phone may not be able to be displayed on your television. This is because of the differences in the video format between the two. For example, on the iPhone 4, you cannot mirror everything that is on your screen. Instead, only video saved on your phone and from a few applications can be played on the screen.